Highland Park Dark Origins
Het!
http://www.tastenote.se/media/reviews/photos/thumbnail/320x520c/3d/83/cd/HP-Dark-Origins-bottle-pack-70cl-1000-600x862-46-1408293999.png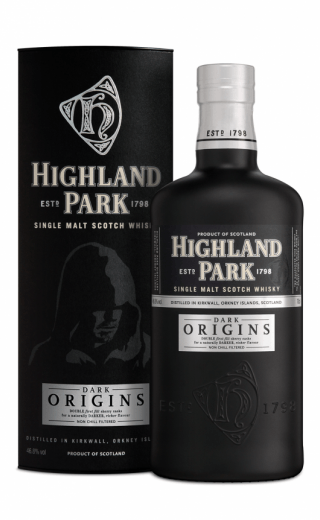 Whisky
Fattyp
Amerikansk ek
Europeisk ek
Sherry
Fatbeskrivning
First fill sherry, refill sherry
Vad besökare tyckte
(Updated: augusti 19, 2014)
Whisky
Tastenote titel
Highland Parks senaste tillskott, som går hårt på sherrylagringen – 80% first fill fat (varav 60% är lagrade på europeiska och 20% på amerikanska fat) och resterande 20% är på refill sherryfat. Det ryktas dessutom att åldern på denna NAS-whisky är i sin tonår.

This is a new addition to Highland Parks core expression and is matured in 80% first fill sherry (60% European oak casks & 20% American oak) and 20% refill sherry casks. Rumor has it that this bottling contains whisky in its teenage years.

Doft
Det märks med en gång att det är en större mängd sherry i mixen! Valnötter, smör, ischoklad, rostat bröd, nästan samma beska som man kan känna i en god ale.

Känner en liten touch av sulfiter/sulfater, typ brännt gummi, kartong, sand som värmt sig I solen en varm sommardag. Även lite beef jerky. Brukar inte gilla denna sorts influens när det kommer till sherry, men med denna så tar det inte över. Vill även tillägga att detta tonar ner en del om man luftar whiskyn i glaset en stund.

It's hard to miss the bigger share of sherry casks, no doubt about it! There are walnuts, ice chocolate (a popular Christmas candy in Sweden & Germany), toasted bread, and a particular bitterness that I find many times in a tasty ale.

There's also a faint touch of sulphites/sulphates, such as burnt rubber, cardboard, beach sand that's been heated up from a warm and sunny day. There's even some beef jerky present. Usually, I'm not a big fan of sulfury notes in whisky, but in this whisky, it doesn't overpower everything else. Also noteworthy is that they do wane away after giving the glass some time and air.
Smak
Helt plötsligt kommer något jag totalt missade i doften – rök, fint utbalanserad med sötman från klementiner, kolaflaskor (lösgodis) och knäck, men samtidigt med en beska i form av blodgrape.
En pepprig munkänsla.

There's a note that pops up that I totally missed in the nose – smoke, nicely balanced with the sweetness from clementines, haribo happy-colas and butterscotch, together with bitter blood oranges.
A peppery mouth feel.
Avslut
En svag, men trevlig sherrybitterhet, men samtidigt kommer den där ale-beskan fram återigen, tillsammans med en örtig aska.

A modest but pleasant sherry-bitterness, playing along with the ale-y notes coming back from the nose, together with herbal, ashy notes.
Beskrivning / Sammanfattning
Ärligt talat så hade jag inte så höga förhoppningar på denna whiskyn. Jag är glad över att jag hade fel! Om man googlar runt lite grann så verkar det som att denna butelj kommer till sverige den 1:a oktober.

Honestly, I didn't have my expectations very high while tasting this whisky. I'm very happy that I was wrong! This bottle is already released in the UK and HP's webshop and is rumored to be released in Sweden oktober 1st.
Var denna recensionen till någon hjälp?