Ardbeg 17
Het!
https://www.tastenote.se/media/reviews/photos/thumbnail/320x520c/9c/0d/59/00073-Ardbeg-17-year-old-1-0-14-1386767478.jpg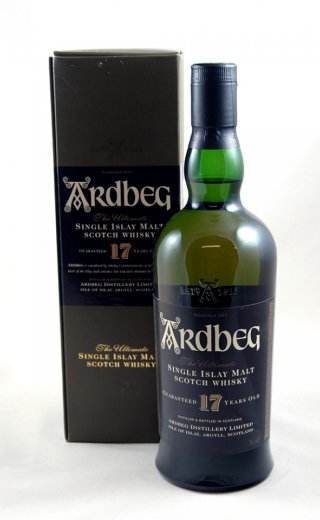 Vad besökare tyckte
Whisky
Tastenote titel
Ardbeg 17 is one of the first issues that was launched after that Glenmorangie took over Ardbeg 1997 after been closed for production over many years. Many of you probably know the loved and hated whisky writer Jim Murray and his book Whisky Bible? .... This man certainly had a part in the development of this particular edition back in the days .... but not the latter ones which can be reflected in his scores in his Bible ... you can of course think about what / which editions that has the highest ratings;)
The one I currently got in my glass is the L2 version which is one of the first editions.
Before we begin I can inform you that Ardbeg 17 isn´t exactly what we today might love about Ardbeg. I'm referring to Ardbeg Uigeadail, Corryvreckan etc. etc. with their powerful smokiness. This profile wasn´t meant to be in that way either, and that does not necessary means it lost it´s potential, but instead they were looking for other qualities .... let's go on shall we ..

Doft
Nose:
Starts off with a nice sweet, earthy and very restrained smoke. Almost feels like the smoke only became a waste product in the production. There is also some nice herbs elements in the background and nuttiness.
Smak
Taste:
Smooth and round on the tongue. Relatively sweet and here we get a bit more impact on the smoke that we felt in the nose. It's malty/bread, and the nice fruitiness that we felt on the nose, has been toned down considerably and instead enters a taste of milk chocolate.
Avslut
Finish:
Medium long finish with a slight peppery tones. The texture is for the oily side and the smoke has become sweeter with a touch of lemon. The milk chocolate remains until the end.
Beskrivning / Sammanfattning
I can admit that I was expecting a little bit more of this than what I experienced.
It is not bad…not at all, but also not something that I would jumped out of the chair and High Five the ceiling for, considering that this goes for around 300 Euro on the auctions.
But that's how it is with Ardbeg these days ... they rush high and fast in price and usually ends
up at collectors shelf's together with the rest of the crew.
However, I will admit that there was much else in the Ardbeg 17 that was very pleasing and this show on the fact that Ardbeg also can be good as Lightly Peated.

Var denna recensionen till någon hjälp?
(Updated: januari 30, 2014)
Whisky
Tastenote titel
Ardbeg 17 är en av de första utgåvorna som lanserades efter det att Glenmorangie tog över Ardbeg 1997 som efter många år helt varit stängt för produktion. Många av er känner säkert till den älskade och hatade whisky skribenten Jim Murray och hans bok Whisky Bible?....denna man hade visst en del i framtagandet av just denna utgåva när det begav sig....dock inte de senare som blandades till vilket också framgår i hans betygsättning i sin bibel...ni kan ju fundera på vilken/vilka utgåvor som hade högst betyg själva;)
Den jag idag har i glaset är L2 vilket är en av de första utgåvorna.

Kan samtidigt informera om att Ardbeg 17 inte är av samma typ som de vi idag älskar Ardbeg för och jag nämner då Ardbeg Uigeadail, Corryvreckan m.m med deras kraftiga rökighet, detta är en mer rök återhållsam historia men inte på något vis alls dålig för den sakens skull...här finns istället andra kvaliteter....let´s go on shall we..
Doft
Fin sötma, jordig och mycket återhållsam rök. Känns nästan som röken enbart blivit en restprodukt i produktionen. Här finns även en fin örtighet i bakgrunden samt nötiga inslag.
Mycket fruktig av päron och äpple, torkad persika, vanilj ihop med en lätt havsbris av sälta.
En mycket bra näsa men inte en idag Ardbeg typisk sådan i form av rökiga inslag.

Smak
Len och rund på tungan. Relativt söt och här får vi lite mer gehör på den återhållsamma röken som vi kände i doften. Den är mer maltig, brödig och den fina fruktighet som vi kände i doften, har tonats ner rejält och istället träder en smak av mjölk choklad.
Avslut
Medellång eftersmak med en svag pepprig ton. Texturen är åt det oljiga hållet och vi har även röken med fast i en sötare variant tillsammans med citron. Mjölkchokladen ligger kvar som en hinna ända till slutet.
Beskrivning / Sammanfattning
Kan erkänna att jag faktiskt hade väntat mig liite mer av denna än vad som presenterades.
Den är inte alls dålig, men inte heller något som undertecknad hoppade ur stolen för med tanke på att
den går för runt 300 Euro på auktionerna.
Men det är ju så det är med Ardbeg som fått kultstatus…de rusar fort och högt i pris och hamnar oftast
hos de som vill ställa dem fint på hyllan bland de andra.
Dock skall jag medge att här fanns mycket annat som var mycket tilltalande och visar
på de faktum att Ardbeg även kan vara bra som Lightly Peated.

Var denna recensionen till någon hjälp?