Ardbeg 10
Het!
https://www.tastenote.se/media/reviews/photos/thumbnail/320x520c/aa/aa/60/ardbeg-10-year-71-1386761201.jpg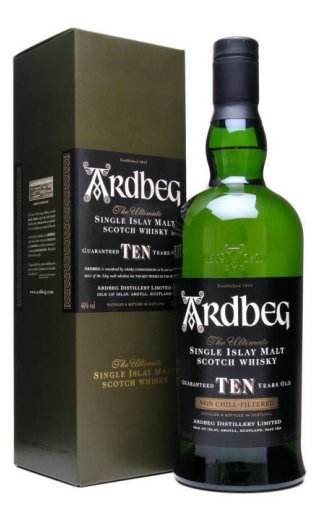 Vad besökare tyckte
Whisky
Tastenote titel
Magisk magi!
Beskrivning / Sammanfattning
En helt fantastisk & smakrik whiskey till ett grymt pris!
Var denna recensionen till någon hjälp?
Whisky
Tastenote titel
Ardbeg 10 YO var en del av den siste smakingen til The Ladies' Share. Det er ikke til å komme i fra at mange av the Ladies er glad i whisky fra Islay. Noen er faktisk så glad i røykfylt whisky at målet er å utvide horisonten på ikke-røyket whisky.

Ardbeg 10 YO er tilgjengelig på Vinmonopolet for NOK 549,90 (varenummer 4596101) og på Systembolaget for SEK 495,- (varenummer 513). På flasken som jeg smakte fra, sto koden L14 044. Jeg har ikke lyktes i å finne ut om koden betyr at akkurat denne whiskyen ble tappet på flaske i 2014.
Doft
Røyk (surprise!). Jeg synes at røyklukten fra Ardbeg ofte er ganske søtlig, samtidig som den er frisk med innslag av både sitrus og mynte. Veldig fyldig, god og varm. Ordentlig en kosewhisky som det går at å sniffe på lenge.
Smak
Umiddelbart noterte jeg meg at den ga en ganske tynn munnfølelse. Men jeg trakk påstanden etter svært kort tid… Plutselig sa det bare poff! Og munnen ble møtt av en rå og røff whisky! Varmen bredte seg i hele munnen (og kroppen). Her kom det en herlig miks av vanilje og salt. Fyldig smak.
Avslut
Mmmm…en varm, røykfylt og salt avslutning.
Beskrivning / Sammanfattning
Jeg regner Ardbeg 10 YO som et sikkerstikk når jeg har lyst på et glass med en rå og heftig røykwhisky. Selv om whiskyen er vannet ned til 46 %, synes jeg den gir stor smaksopplevelse.
Var denna recensionen till någon hjälp?