Laphroaig 25 / 1989 / Director's Cut
Het!
https://www.tastenote.se/media/reviews/photos/thumbnail/320x520c/c9/d3/59/laphroaig-25yo-directors-cut-98-1409308621.jpg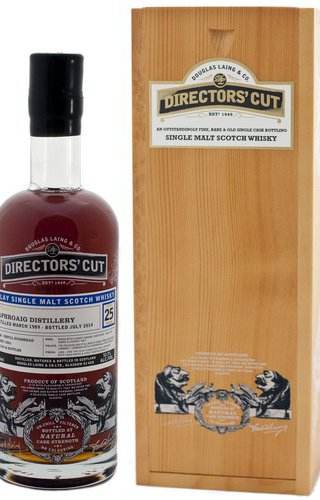 Whisky
Varumärke/Serie
Director´s Cut
Oberoende buteljerare
Douglas Laing
Whiskytyp
Cask Strength
Single cask
Single Malt
Fatbeskrivning
Refill Hogshead
Vad besökare tyckte
(Updated: september 01, 2014)
Whisky
Tastenote titel
En mörk, mörk Laphroaig på 25 år.....bara tanken får en att köra ballong dansen =)
Serien Director´s Cut är Douglas Laing & Co ädlare serie med äldre whiskies, direkt från fatet, vid fat styrka, inte kylfiltrerade och ingen tillsatts av färgämnet E105 har tillförts för att vara mer "tilltalande" för ögat...vem behöver sånt trams.
Detta är alltså Fred Laing ( de var två bröder, Fred & Stewart som tog efter deras far och bedrev Douglas Laing & Co) motsvarighet till den välkända serien Old & Rare som Stewart H. Laing tog med sig tillsammans med serien Old Malt Cask till sitt företag: Hunter Laing & Co. Ltd
Just denna utgåva kom i naggande 42 st flaskor. Vi får hoppas att den då inte är något vidare bra =)

ENGLISH – INTRODUCTION

A dark, dark Laphroaig at the age of 25 years.…just the thoughts of this, makes me want to do the balloon dance ;)
Director´s Cut is Douglas Laing & Co. specially selected old and rare aged Single Malt and Single Grain Scotch Whisky "straight from the cask" bottled at natural cask strength, non-chill-filtered and no colouring to "please the eye….who needs that anyway.

This is Fred Laing ( they were two brothers, Fred and Stewart) that took over the company Douglas Laing & Co from the father who was the founder) equivalent to the famous Old & Rare Series which Stewart H. Laing took with him to his new company Hunter Laing & Co. Ltd together with the Old Malt Cask Series.
This particular edition came out in 42 bottles. Let´s just hope it´s not that good right =)

Doft
Söt, fruktig och balanserad doft. Sherry karaktären är uppenbar men inte övermäktig/köttig utan lämnar mycket plats åt annat. Fruktigheten är på klassisk sherry manér med plommon, mogna röda äpplen, torkade fikon och lätt björnbär.
Vi finner även en söt nötig touch som lirar lätt bakom frukt ridån och jag refererar direkt till mandelkubb.
Sötman stramas upp något med lätta toner av läder och en örtig karaktär.
Har vi rök då???
Jodå, men denna lirar inte direkt på första parkett utan ligger mer och adderar djup till sötman och fruktigheten med sin jordiga karaktär. Röken backas upp av lakrits i lakrisal form och en nätt doft av viol pastill.
Rund, fruktig, söt och komplex doft med bakomliggande jordig rök med lakrisal…..strålande.

ENGLISH – NOSE:

A sweet, fruity and balanced nose. The sherry influence are obvious but it´s not to meaty, but leaves room for much else.
The fruitiness are at the classical sherry style of plums, ripe red apples, dry figs and blackberry.
There´s also a sweet nutty touch of almond pastry behind the fruitiness.
A wave of leather and some herbal influences breaks up the sweetness and the peat smoke then?? Yes, it´s there but not up front. More adding a depth to the sweetness and fruitiness with its earthy character.
The smoke is backed up by liquorice and just a hint of violet.
Full-bodied, fruity, sweet and complex nose with earthy peat smoke with a splash of liquorice…just great.

Smak
Fyllig munkänsla med något mindre sötma. Här adderas mer kryddighet av ingefära och lätt sälta. Röken spelar en mer framträdande roll än i doft.
Vi får lite med grape fruktighet av blod apelsin, och lakrisen kliver upp några snäpp. Lätta torra toner av ek och läder.

ENGLISH – PALATE:

Full-bodied with just a drop less sweetness. Some more spiciness of ginger and light wave of sea water.
The peat smoke is more present than on the nose together with liquorice.
More grape character of blood orange and some light dryness from the oak and leather.

Avslut
Lång eftersmak med medelfyllig kropp. Stramar upp och blir lätt sträv av kaffebönor. Röken ligger i fronten med sin jordiga karaktär.
Fortsatt kryddig och ebbar ut i lakrits, aska med en lätt gräddig känsla på tungan.

ENGLISH – FINISH:

Long, spicy and medium-bodied. Light dry of mocha and the earthy peat smoke is still up front.
In the end, liquorice, ash with a creamy feeling on the tongue.

Beskrivning / Sammanfattning
En riktigt kul och angenäm resa som förmodligen stannade här då det enbart spottades ut 42 st flaskor och jag inte var tillräckligt uppmärksammad på släppet.
Hittar ni den….ring mig!

ENGLISH – CONCLUSION:

Another great whisky that Fred and his crew was so kind to bottle for us. It was a great journey but I guess it stops here sense it was only 42 bottles released and I wasn´t fast enough to grab one….damn you;)
If you find it….give me a call!

Var denna recensionen till någon hjälp?